Funnel Cohort Analysis Dashboard
Funnel Cohort Analysis Dashboard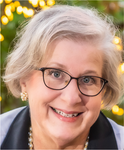 Updated by Cathy Funderburg
CaliberMind Funnel Cohort Analysis Dashboard
The CaliberMind Funnel Cohort Analysis Dashboard connects directly to a CRM. The fields shown may be named differently within each unique system. The field names are easily changed and mapped to your current CRM Instance.
The Cohort Analysis Dashboard - Purpose
The cohort analysis dashboard provides reports of categorized data according to characteristics shared by groups. With the cohort analysis dashboard, patterns in the sales lifecycle can be identified, analyzed, and detected more easily.
The cohort analysis dashboard concentrates on identifying groups of people over a time period who have something in common. This could be people who became customers at the same time, through the same event, campaign, or channel.
The Funnel Cohort Analysis Dashboard - Assumptions
The cohort analysis structure assumes the following:
Your business is using the following standard CRM objects

Opportunity
Campaign
Campaign Manager
Lead
Contact
Account
Marketing automation platform integration

Marketing automation platform integration with your CRM and campaign member responses are being managed by your marketing team (for best practices, watch this recorded class)
You have cohort identifiers within your system

User data must be grouped into different "buckets," such as date of joining, date of first purchase, date of demo, purchase year, and all applications purchased at a particular time.
Establihed time of lifecycle stages

In order to calculate lifecycle stages, users are divided into cohorts and the time between events attributed to each cohort is measured. users have been divided into cohorts, the amount of time between events attributed to each customer is measured in order to calculate lifecycle stages.
Cohort Analysis Dashboard - Description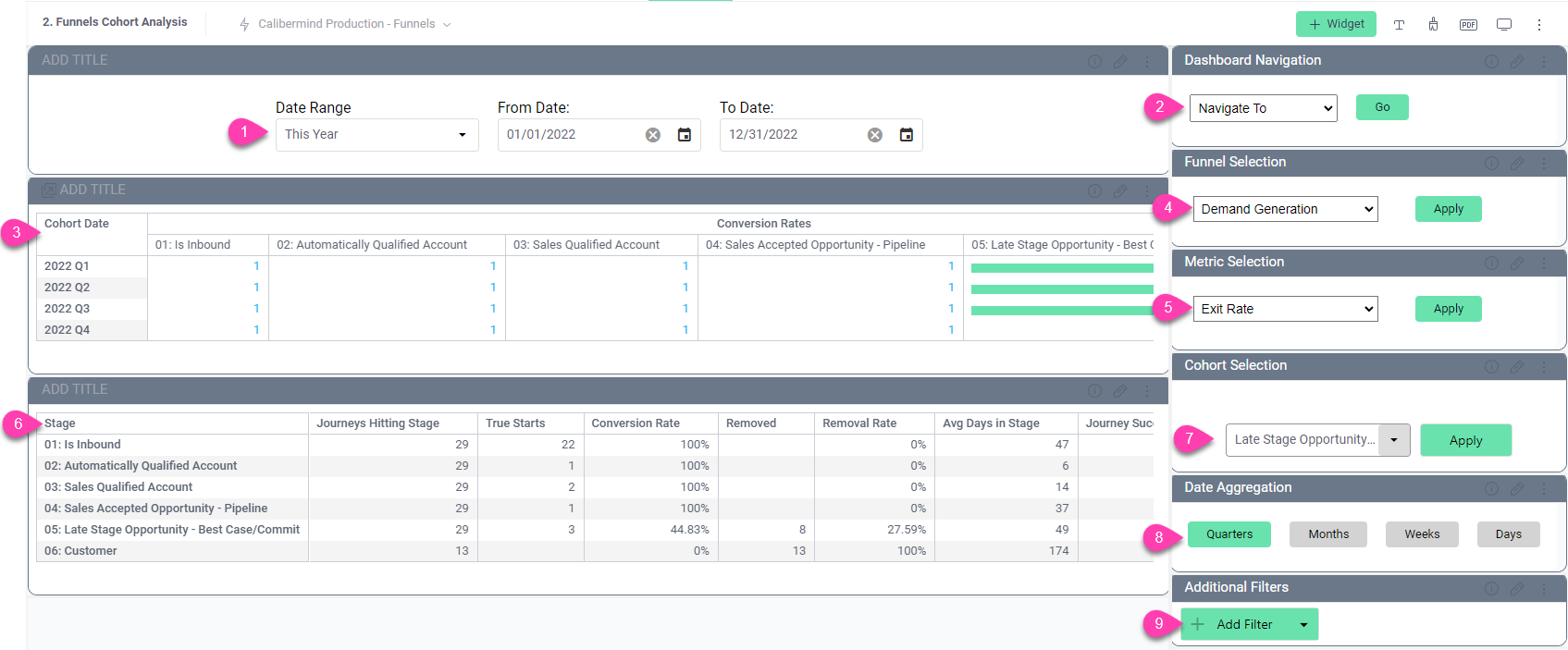 Date Range Picker - Select date ranges interactively.
 Navigation Dropdown List - Navigate to other dashboards quickly via the dropdown list.
 By Cohort Date Table - Conversion rates by cohort dates.
 Funnel Selection - Drop-down list of all created funnels.
 Metric Selection - Interactive dropdown list of all available metrics.
 Stage Data Table - Visual representation of all funnel metrics.
 Cohort Selection Dropdown List - Interactive dropdown list of all available cohort selections.
 Date Aggreation Buttons - Quarter, month, week, day aggregation buttons.
 Additional Filters - Additional filter selectors
Cohort Analysis Dashboard - Use Cases
The following use cases have been developed based on the perspective of the user type. An explanation of the type of information is provided, as well as a dashboard from where you can easily obtain that information.
Who Would Use the Cohort Analysis Dashboard?
Role: Sales Executives, Marketing Executives, Marketing Directors, Marketing Tacticians, and Operations
Examples of Cohort Analysis Use Case Scenarios
Cohort Analysis for success of marketing campaigns

Each stage in the funnel is influenced by events, programs, campaigns, gated content, UTM codes, etc... By filtering the dashboard by funnel stage using the Cohort Selection dropdown list you are able to track unique trends by date aggregation. Additional drill-down filters such as Company Industry, Company Region, and Company Owner are quickly available via a dropdown list.
Cohort Analysis for average days in stage

The Stage Duration pertains to the length of time an opportunity has spent in a particular sales stage, specifically since the opportunity was moved to the current stage. In this metric, the average number of days the cohort has spent in a given stage is highlighted. Sales representatives commonly use Stage Duration Reports to track how long it takes them to move through sales stages. It is a valuable indicator of a pipeline or opportunity's health and velocity.
Cohort Analysis for journey exit rates

Similar to your customer's journey, the marketing funnel is broken down into stages. Your target audience needs to be aware and make a purchase for your campaign to succeed. Practically speaking - A journey is successful if it reaches the final stage of the funnel, which in most cases will be recorded as either a 'closed won' or 'customer' stage. The question you need to answer is: where are my leads exiting the funnel? This will immediately indicate issues that need further evaluation or reflection on successes.