CaliberMind Entity Relations and System Tables
CaliberMind Entity Relations and System Tables
Updated by Nic Zangre
CaliberMind Data Model Overview
CaliberMind's data model is designed to be fluid, open, yet structured. Regardless of which CRM, Marketing Automation Tool, or priority data source, data is mapped and transformed to work with your B2B business. At its heart, CaliberMind is a Customer Data Platform (CDP). That is:
A data warehouse and data lake to store all types, shapes, and volumes of marketing data.
A reporting & segmentation tool set.
A workflow engine to bi-directionally sync data to and from the CDP.
One of the benefits of centralizing analytics and segmentation in CaliberMind is that we automate the maintenance of creating a "marketing data lake".
For example, important questions are 1) What was an account's engagement score last month vs this month? 2) What is our pipeline month-over-month?
This is only possible if you copy certain data as a snapshot each day-- which this model enables.
It also allows interoperability. Our customers can leverage our best practice reporting templates on top of our system tables and snapshots regardless of custom objects, Salesforce, Marketo, HubSpot, SAP... or even Google Sheets.
One system integrated into CaliberMind such as Salesforce looks like this:
Big Picture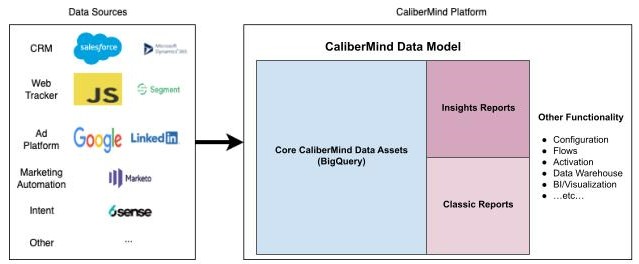 CaliberMind's data model is a key component of the platform. CaliberMind is a platform that connects, consolidates, and enriches data sources to gain insights into marketing and sales processes. A few examples include revenue attribution, campaign performance analysis, return on ad spend analysis, and funnel analysis. Our platform allows customers to manage, configure, segment, push, and act on insights.
CaliberMind CDP - Entity Relationship Diagram (ERD)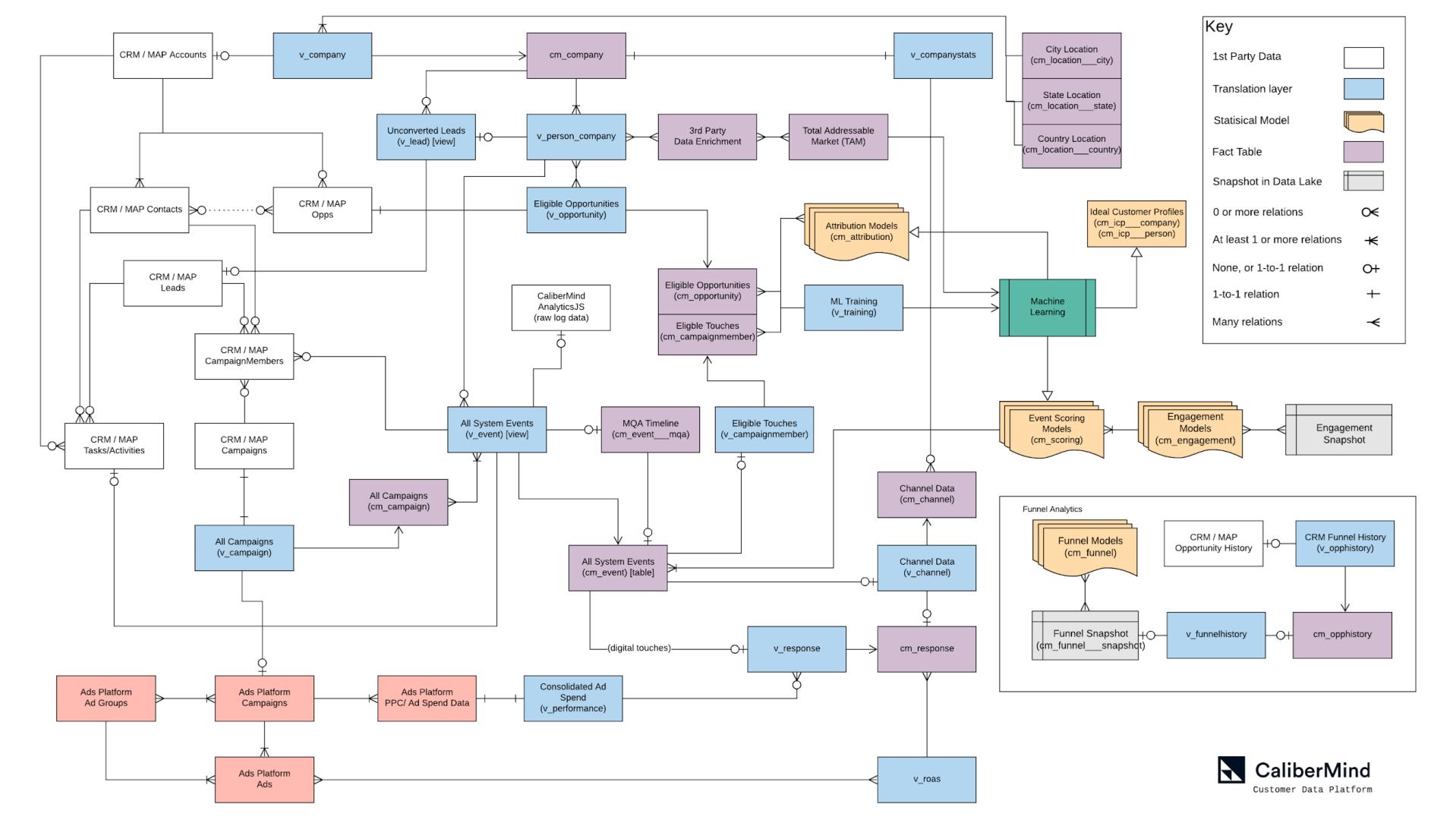 The diagram above is a representation of the current relationship of all the various tables within the data warehouse layer of the Caliber Mind Data Model.