Segment Connector [via FiveTran]
Segment Connector [via FiveTran]
Updated by Nic Zangre
Segment Implementation
Follow the setup instructions for your Segment implementation.
Prerequisites
To connect Segment to CaliberMind, you need:
Segment account
Segment trackers installed on your website or app
Webhooks Setup Guide
STEP 1 - Find Fivetran Webhook URL
Go to SETTINGS > Create new PULL connector
https://my.calibermind.com/settings/connectors/pull/create

Select Webhook to connect through sending Segment's webhooks to Fivetran.
Find the automatically-generated Webhook URL and make a note of it. You will need it to configure Segment to connect with Fivetran.
STEP 2 - Find Network Code
Log in to your Segment account.
Copy the Webhook URL you found in Step 1 into the settings page in your Segment account titled Webhook URLs.
Hit the Save Changes button.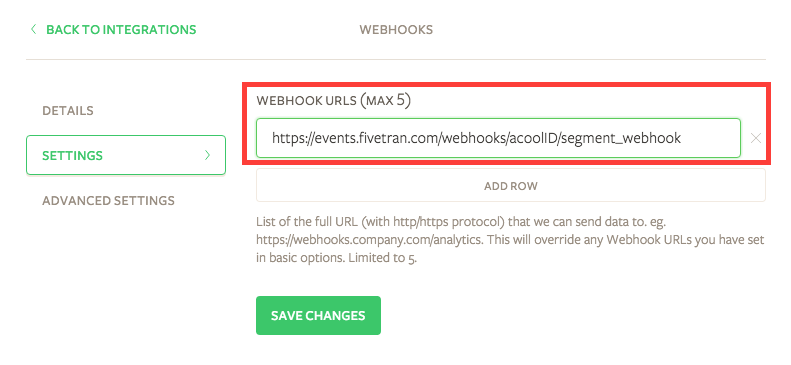 STEP 3 - Finish Fivetran configuration
Click Save & Test. Fivetran will load events into your destination
IMPORTANT: It takes us around 10 to 15 minutes to load the first event into your destination.