Keyboard Shortcuts using SQL
Keyboard Shortcuts using SQL
Updated by Nic Zangre
Keyboard Shortcuts in SQL
While not everyone can free-code and write SQL, it's common for non-technical ops professionals to learn "enough to be dangerous"! Advanced users in CaliberMind can actually type in or edit queries pulling tables from the Customer Data Platform.
Common Use Cases
There are some common use cases when keyboard shortcuts can save lots of time and also prevent user errors.
For example, below a user is editing SQL in a list and wishes to replace an exact match for the word "id" with "customer_id". You can see the the shortcut tool highlighted "id" on rows 6, 21, and 32 -- but the word "company_id" wasn't highlighted. To see a list of all SQL keyboard shortcuts scroll down to see the entire list of powerful hotkeys!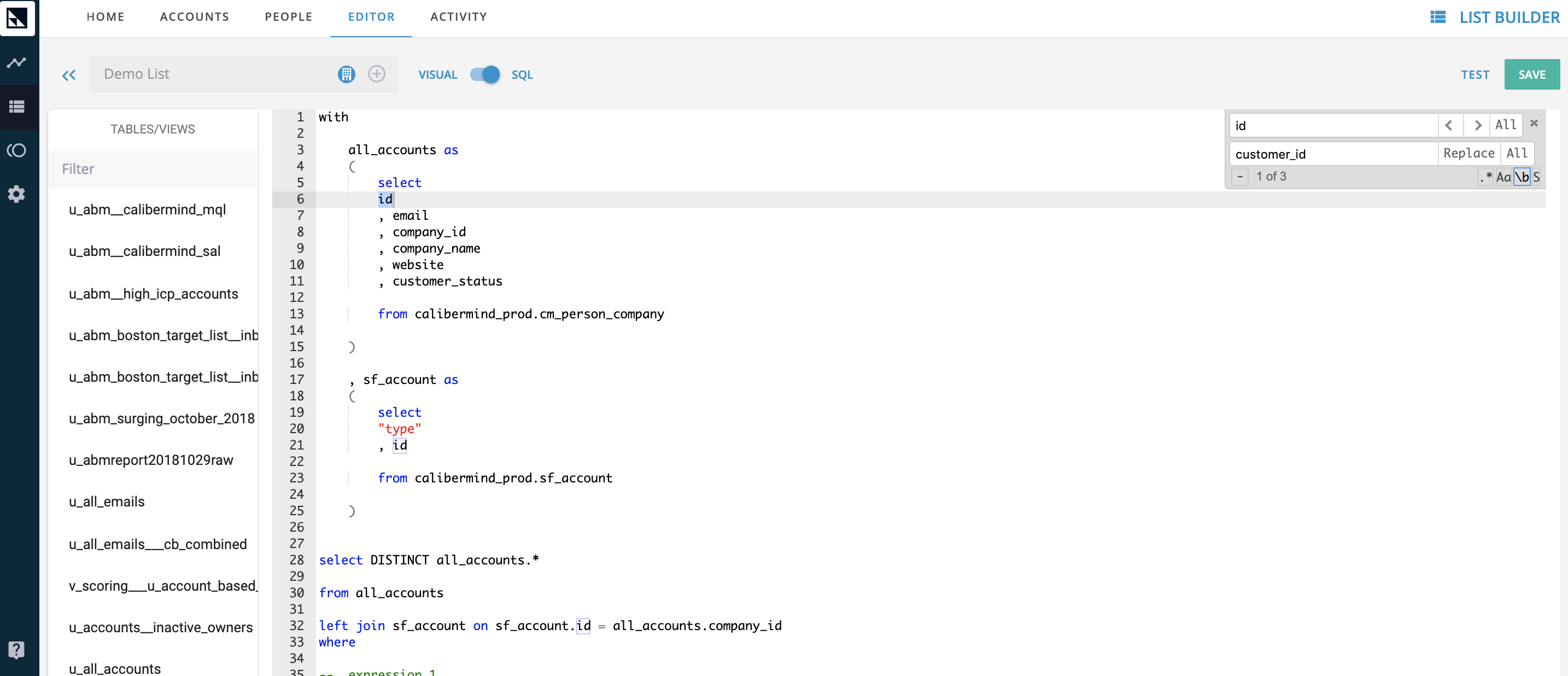 Line Operations
| | | |
| --- | --- | --- |
| Windows/Linux | Mac | Action |
| Ctrl-D | Command-D | Remove line |
| Alt-Shift-Down | Command-Option-Down | Copy lines down |
| Alt-Shift-Up | Command-Option-Up | Copy lines up |
| Alt-Down | Option-Down | Move lines down |
| Alt-Up | Option-Up | Move lines up |
| Alt-Delete | Ctrl-K | Remove to line end |
| Alt-Backspace | Command-Backspace | Remove to linestart |
| Ctrl-Backspace | Option-Backspace, Ctrl-Option-Backspace | Remove word left |
| Ctrl-Delete | Option-Delete | Remove word right |
| --- | Ctrl-O | Split line |
Selection
| | | |
| --- | --- | --- |
| Windows/Linux | Mac | Action |
| Ctrl-A | Command-A | Select all |
| Shift-Left | Shift-Left | Select left |
| Shift-Right | Shift-Right | Select right |
| Ctrl-Shift-Left | Option-Shift-Left | Select word left |
| Ctrl-Shift-Right | Option-Shift-Right | Select word right |
| Shift-Home | Shift-Home | Select line start |
| Shift-End | Shift-End | Select line end |
| Alt-Shift-Right | Command-Shift-Right | Select to line end |
| Alt-Shift-Left | Command-Shift-Left | Select to line start |
| Shift-Up | Shift-Up | Select up |
| Shift-Down | Shift-Down | Select down |
| Shift-PageUp | Shift-PageUp | Select page up |
| Shift-PageDown | Shift-PageDown | Select page down |
| Ctrl-Shift-Home | Command-Shift-Up | Select to start |
| Ctrl-Shift-End | Command-Shift-Down | Select to end |
| Ctrl-Shift-D | Command-Shift-D | Duplicate selection |
| Ctrl-Shift-P | --- | Select to matching bracket |
Multi cursor
| | | |
| --- | --- | --- |
| Windows/Linux | Mac | Action |
| Ctrl-Alt-Up | Ctrl-Option-Up | Add multi-cursor above |
| Ctrl-Alt-Down | Ctrl-Option-Down | Add multi-cursor below |
| Ctrl-Alt-Right | Ctrl-Option-Right | Add next occurrence to multi-selection |
| Ctrl-Alt-Left | Ctrl-Option-Left | Add previous occurrence to multi-selection |
| Ctrl-Alt-Shift-Up | Ctrl-Option-Shift-Up | Move multicursor from current line to the line above |
| Ctrl-Alt-Shift-Down | Ctrl-Option-Shift-Down | Move multicursor from current line to the line below |
| Ctrl-Alt-Shift-Right | Ctrl-Option-Shift-Right | Remove current occurrence from multi-selection and move to next |
| Ctrl-Alt-Shift-Left | Ctrl-Option-Shift-Left | Remove current occurrence from multi-selection and move to previous |
| Ctrl-Shift-L | Ctrl-Shift-L | Select all from multi-selection |
Go to
| | | |
| --- | --- | --- |
| Windows/Linux | Mac | Action |
| Left | Left, Ctrl-B | Go to left |
| Right | Right, Ctrl-F | Go to right |
| Ctrl-Left | Option-Left | Go to word left |
| Ctrl-Right | Option-Right | Go to word right |
| Up | Up, Ctrl-P | Go line up |
| Down | Down, Ctrl-N | Go line down |
| Alt-Left, Home | Command-Left, Home, Ctrl-A | Go to line start |
| Alt-Right, End | Command-Right, End, Ctrl-E | Go to line end |
| PageUp | Option-PageUp | Go to page up |
| PageDown | Option-PageDown, Ctrl-V | Go to page down |
| Ctrl-Home | Command-Home, Command-Up | Go to start |
| Ctrl-End | Command-End, Command-Down | Go to end |
| Ctrl-L | Command-L | Go to line |
| Ctrl-Down | Command-Down | Scroll line down |
| Ctrl-Up | --- | Scroll line up |
| Ctrl-P | --- | Go to matching bracket |
| --- | Option-PageDown | Scroll page down |
| --- | Option-PageUp | Scroll page up |
Find/Replace
| | | |
| --- | --- | --- |
| Windows/Linux | Mac | Action |
| Ctrl-F | Command-F | Find |
| Ctrl-H | Command-Option-F | Replace |
| Ctrl-K | Command-G | Find next |
| Ctrl-Shift-K | Command-Shift-G | Find previous |
Folding
| | | |
| --- | --- | --- |
| Windows/Linux | Mac | Action |
| Alt-L, Ctrl-F1 | Command-Option-L, Command-F1 | Fold selection |
| Alt-Shift-L, Ctrl-Shift-F1 | Command-Option-Shift-L, Command-Shift-F1 | Unfold |
| Alt-0 | Command-Option-0 | Fold all |
| Alt-Shift-0 | Command-Option-Shift-0 | Unfold all |
Other
| | | |
| --- | --- | --- |
| Windows/Linux | Mac | Action |
| Tab | Tab | Indent |
| Shift-Tab | Shift-Tab | Outdent |
| Ctrl-Z | Command-Z | Undo |
| Ctrl-Shift-Z, Ctrl-Y | Command-Shift-Z, Command-Y | Redo |
| Ctrl-, | Command-, | Show the settings menu |
| Ctrl-/ | Command-/ | Toggle comment |
| Ctrl-T | Ctrl-T | Transpose letters |
| Ctrl-Enter | Command-Enter | Enter full screen |
| Ctrl-Shift-U | Ctrl-Shift-U | Change to lower case |
| Ctrl-U | Ctrl-U | Change to upper case |
| Insert | Insert | Overwrite |
| Ctrl-Shift-E | Command-Shift-E | Macros replay |
| Ctrl-Alt-E | --- | Macros recording |
| Delete | --- | Delete |
| --- | Ctrl-L | Center selection |