Updated by Andrew Hopkins
Funnel Configuration
The intent of this tutorial is to aid the user in understanding the purpose and meaning of the funnel company inclusion configuration and the functionality of the drop-down menus, toggle buttons, and other options within the configuration screen. All examples are easily implemented within your business's Salesforce instance. Unlock the power of CaliberMind's Funnel Application using custom company inclusion configuration tools for each funnel. Before getting started, keep in mind that the fields, events, and triggers shown in the following examples are unique to the CaliberMind SalesForce instance.
It is highly recommended if custom funnel development is required that your organization reach out to your Customer Success representative for further assistance.
Our Funnels Feature allows the user to configure their funnel based on any event data available to CaliberMind. This means that any of your connected systems that create events are able to be marked as the trigger for a phase change. Our Funnels feature captures journeys at the person, company, and opportunity levels.
From the home page, click on the cog to access the admin settings area.

Click the Funnels link in the left navigation panel.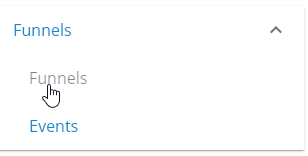 To create a new Funnel, click the blue plus symbol.

Enter a name for your Funnel, select the Funnel Type and click the OK button.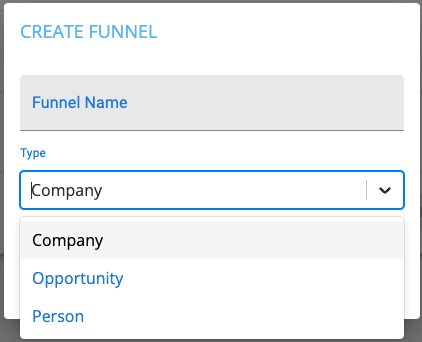 Your Funnel will be loaded with our standard Funnel Template. You can edit any part of this, it is meant to assist you in understanding a generic Funnel that should be usable by anyone.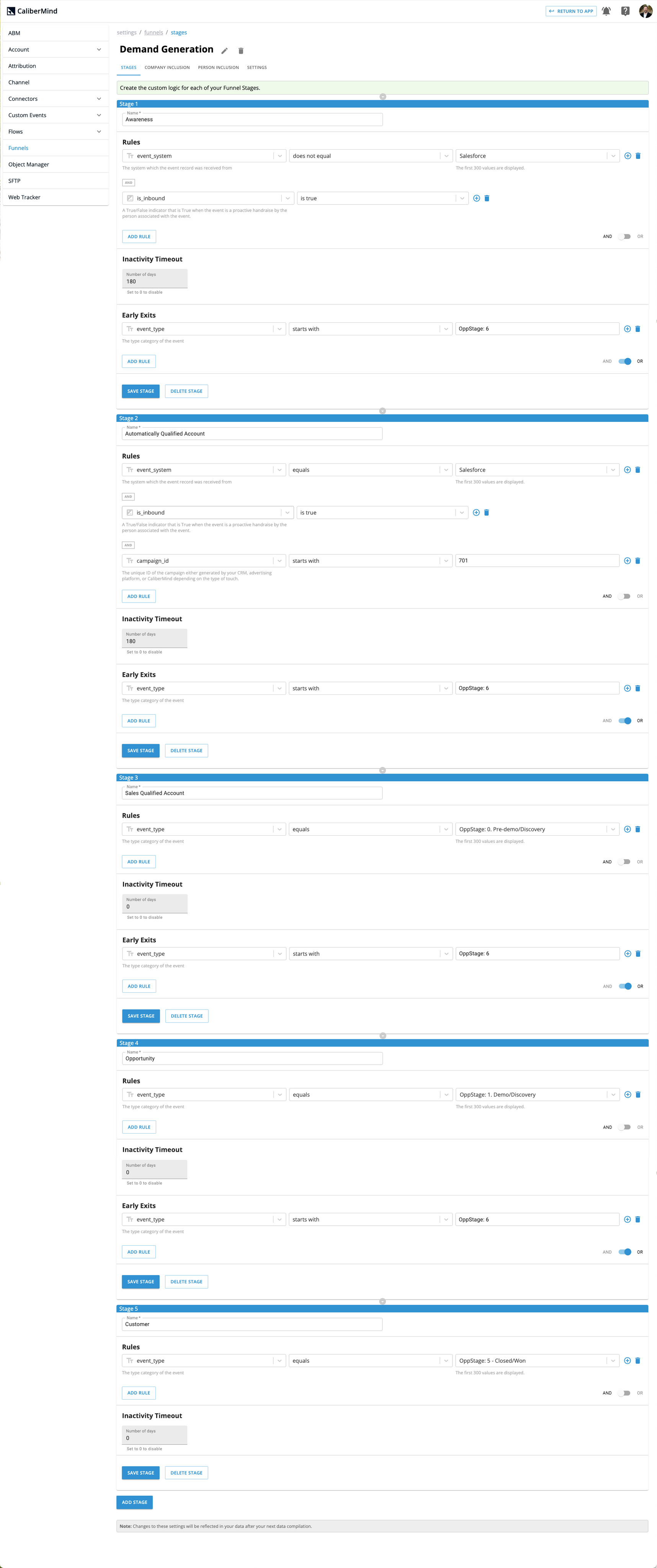 We recommend checking out our article on using the Event Explore feature to figure out which fields and values you leverage in your stage logic build-out. To learn more,
click here.
Here is a breakdown for a single logic block and what the user can do:

Edit Stage Name
Edit Rules - configure the logic to signify a stage change
Inactivity Timeout - create an automatic journey end based on time between inbound events
Early Exits - create an automatic journey end based on certain events

Between each stage, you will see an icon that allows the user to insert a stage between the other stages.

The Company Inclusion tab allows the user to indicate which Companies to be included in the Funnel. By default, all Companies will be included.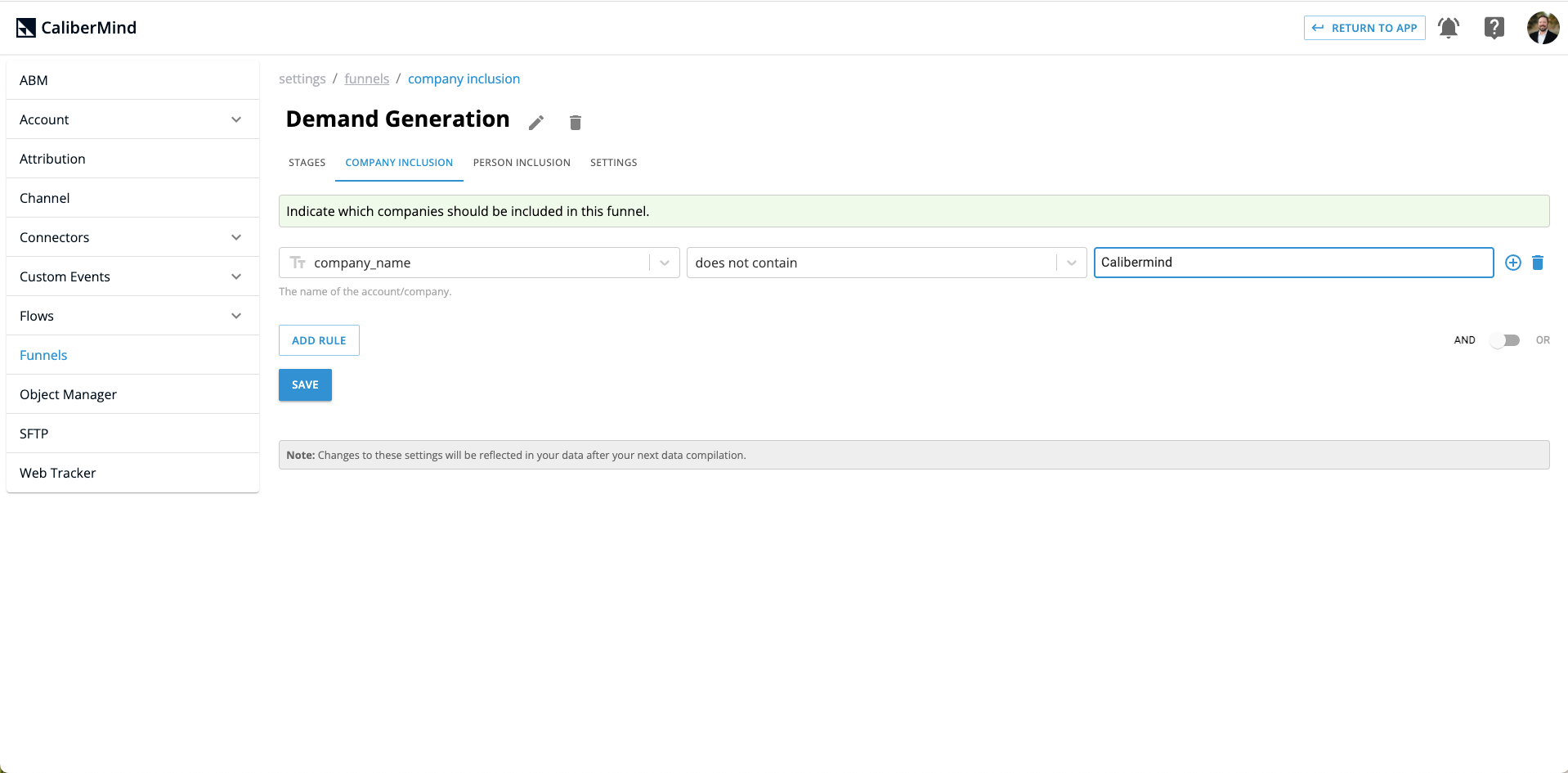 The Person Inclusion tab allows the user to indicate which people to be included in the Funnel. By default, all People will be included.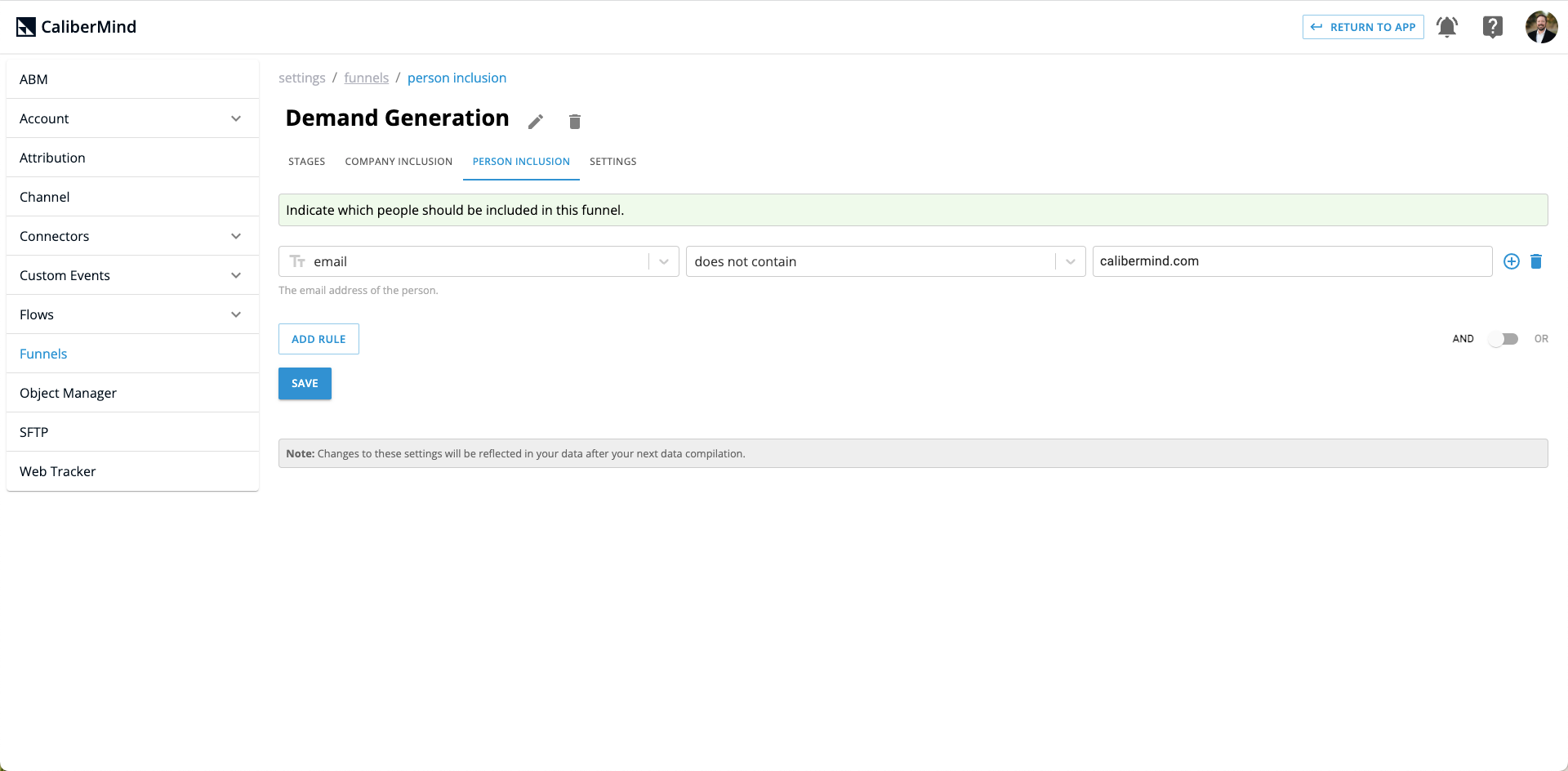 The Funnel Settings page allows the user to indicate whether or not they want Funnel Journey Members to continue to participate in additional journeys. Basically, do you want current customers to be used in this funnel? Second, toggle controls whether or not the system should look back past the two-year look back for journeys that complete the last stage. (This should only be used in Funnels when the final stage is a customer)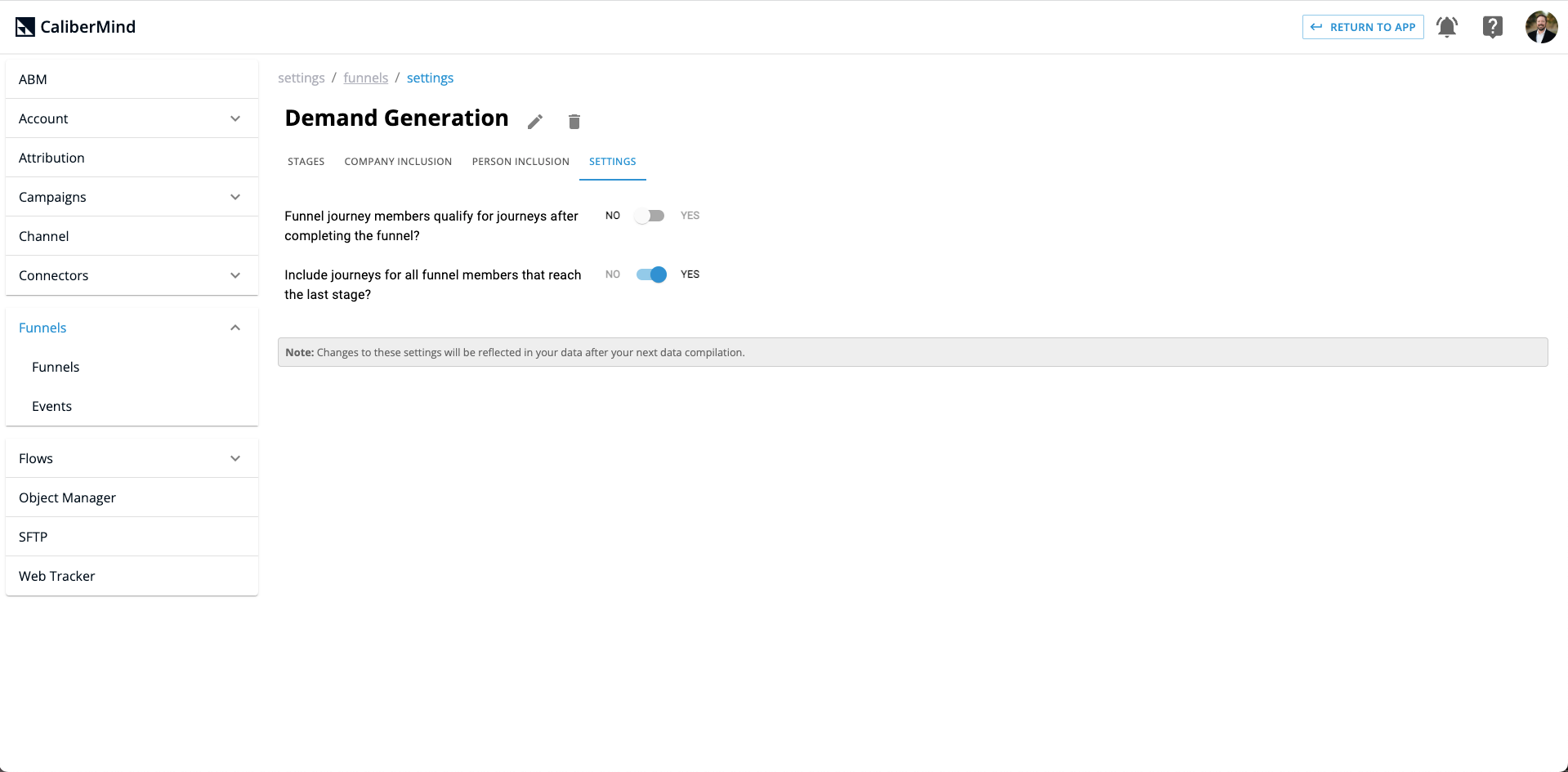 The options from the Funnels Listing are to Edit, Disable and Delete the Funnel.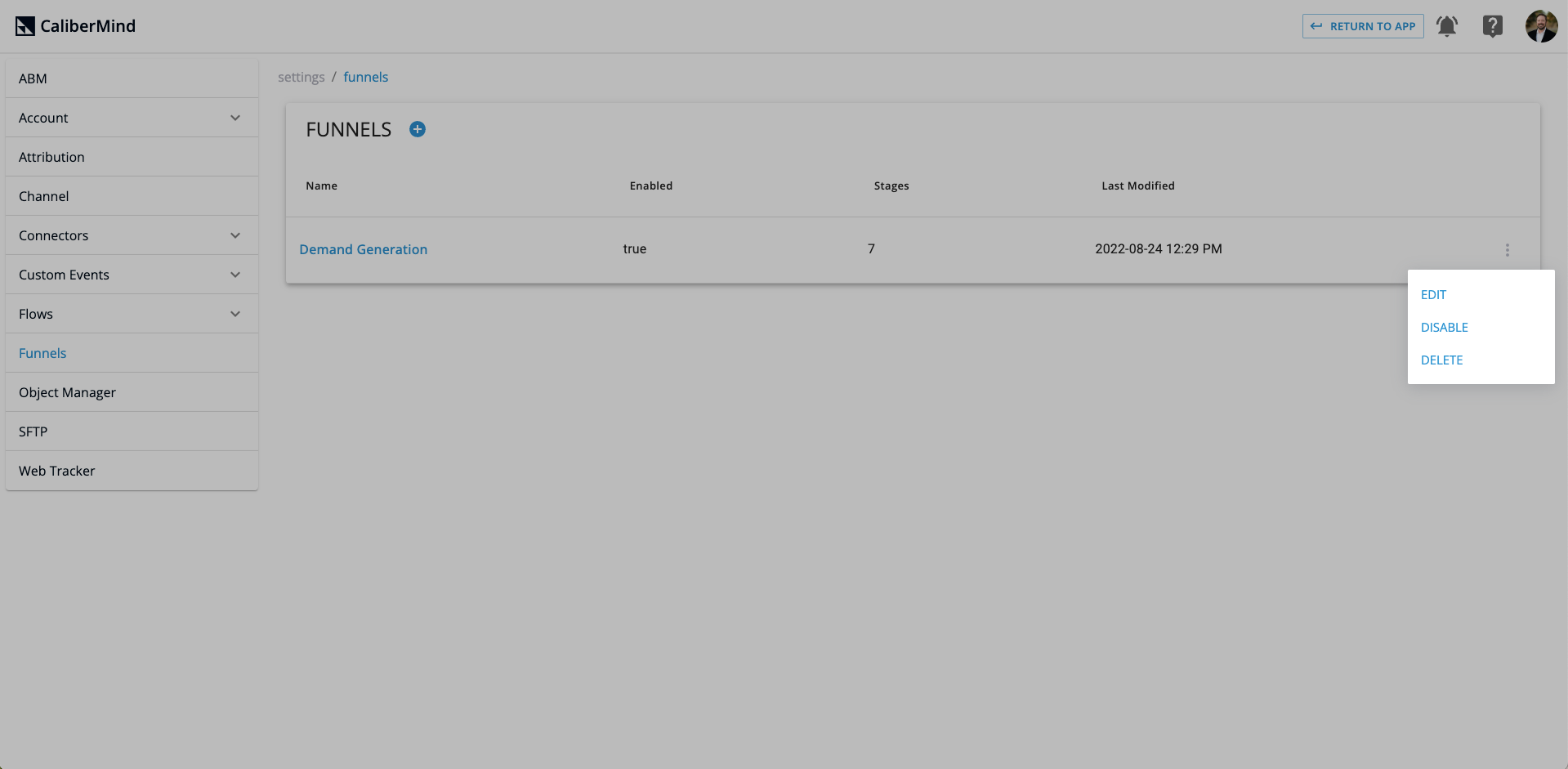 ---
FAQs
Do funnel journey members qualify for journeys after completing the funnel?
NO

If this is set to NO, this means that people who have completed a journey successfully will not qualify for future journeys. This is particularly useful if the final "success" stage is "Customer" and people want to use the funnel for net new customers only. Once they achieve Customer status, they will be excluded from future journeys in this funnel.
YES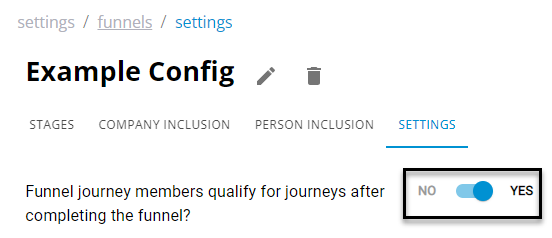 If it's set to YES, this means that people can have multiple successful journeys. This works well for companies that do not have a recurring revenue product.
Include journeys for all funnel members that reach the last stage?
No
If this is set to NO, the system will not look for all successful journey completions.
Yes
If this is set to YES, the system will look for all successful journey completions. This means that if someone became a Customer (if that's the Success stage) 2 years ago will be excluded from qualifying for the funnel in the future. Typically we only look at 18 months of data. This gives us the ability to look beyond that time period, which is useful for customers who have paying customers from more than 18 months prior to implementation.